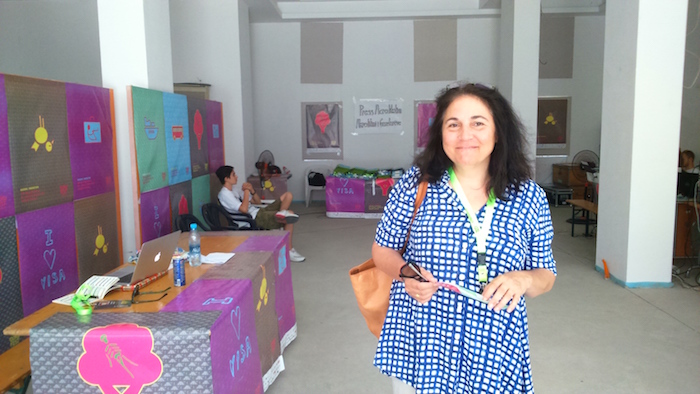 DokuFest Kosovo welcomes "Mana" fresh off its international premiere at Pärnu International Film Festival in July. DokuFest's 14th edition is a reflection on Migration, one of the most controversial issues in the modern world. With a curated film strand, photo exhibition, various talks and panel discussions, Migration is central to this year's nuanced festival program. Check out the full schedule here.
Our trip turned out to be quite adventurous as the plane landed in Tirana and we had to drive 2hrs to Prizren, where DokuFest takes place. And let me tell you, the Kosovo border police is no joke. Apparently,  producer Despina Pavlaki is very good at taking care of all aspects of the film but still managed to leave her passport behind, which made it nearly impossible to enter the country on a Greek I.D. Ambassadors, festival staff and random acquaintances were deployed and we finally made it to Prizren safe and sound (see Valerie at festival HQ above). Word to the wise: under no circumstance let your passport expire! Many thanks to the Greek liaison office in Kosovo that saved the day!!!
Mana screens as part of DokuFest's Balkan Doχ Competition on Tuesday, August 11 @ Kino ne Lum at 22.00 and on Thursday August 13 @ Kino Klubi at 14:00. See you there!